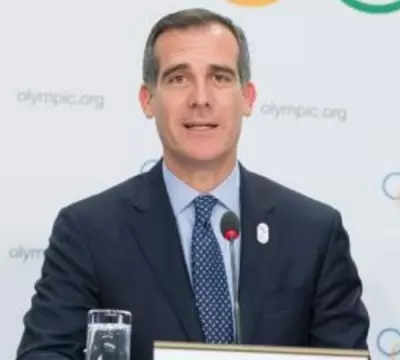 New ambassador
Eric Garcetti, President Joe Biden's close aide, will be the next US Ambassador to India after the Senate confirmed his nomination, ending a protracted hiatus of over two years to fill the key diplomatic position.
A long wait
His nomination had been pending before the US Congress since July 2021. Last week, the Senate Foreign Relations Committee voted 13-8 in favour of his nomination.
The deadlock
Garcetti's nomination was not brought to the Senate floor for a vote during the last Congress as the ruling Democratic Party did not have enough support to get the 52-year-old politician through.
He was not confirmed by the Senate in President Biden's first two years in office amid concerns by some lawmakers that Garcetti had not adequately handled allegations of sexual assault and harassment against a former senior adviser. Garcetti has denied any wrongdoing.
Last envoy
Kenneth Juster, the last occupant of the ambassadorial residence of the US in New Delhi, stepped down in January 2021 after the change of government in America.
Re-nomination
President Biden re-nominated Garcetti to the same position in January this year. Garcetti supporters argued that geopolitical concerns were too important to leave India without an ambassador.
The US Embassy in India, one of America's key allies, has been without an ambassador since January 2021, the longest stretch in the history of US-India relations that the post has remained vacant.
And finally…
The Senate voted 52-42 to confirm the former Los Angeles mayor's nomination on Wednesday. Garcetti lost the votes of three Democrats but convinced seven Republicans to cross the aisle, winning him the job.